Is Direct Mail a Thing of Past?
With the growth of email and social media it would be a fair assumption that direct mail is a thing of the past. Although research and statistics from 2016 tell us a different story.
Direct mail is frequently read by all demographic groups, including digitally adept Millennials
Almost two-thirds of marketers report they are attempting to coordinate direct mail with other marketing activities
Direct mail drives both online and offline traffic
Most importantly, direct mail continues to trigger sales (InfoTrends)
For these reasons, direct mail continues to be effective for the marketers sending it and for the consumers who receive it. People still like the personal touch and 70% of consumers say that snail mail is more personal than the internet
(Direct Marketing Association).
Be Different and Unique with Direct Mail and Branded Merchandise
Emails can be easily ignored, yet if someone receives a physical piece of mail personally addressed to them it's harder to overlook. Direct mail alongside your online marketing can be hugely beneficial. Using promotional merchandise as part of a direct mail campaign is an effective tactic to enhance your marketing message and help add that personal touch. Along with your literature why not use branded merchandise to support:
a loyalty campaign
a new product launch
a website launch
a special offer
Be different and unique with branded merchandise and direct mail. Direct mail is an effective way to woo new customers. 39% of customers try a business for the first time because of direct mail advertising (
Direct Marketing Association
). Get creative!
Branded Merchandise Ideas
For Valentines Day we mailed out these really cute branded air fresheners. Our clients loved them and they made them feel appreciated. It is also a useful item that will hang in their cars as a constant reminder of our brand.
Why not use direct mail to direct consumers to your website or encourage people to follow you on social media. We love these NEW stress Hashtags, what a great way to ask people to follow you on social media.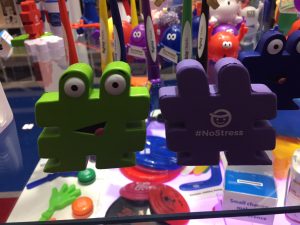 Direct mail should remain an important part of your companies marketing mix and branded merchandise plays an important role to support and enhance your mailings. We have a huge range of promotional merchandise which is ideal for mailing out. Give us a call
023 9235 4960
to find out more or visit our website:
www.hambleside-merchandise.co.uk